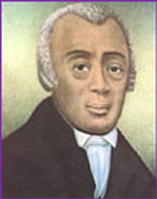 Our Founder Richard Allen
The AMEC grew out of the Free African Society (FAS) which Richard Allen, Absalom Jones, and others established in Philadelphia in 1787. When officials at St. George's MEC pulled blacks off their knees while praying, FAS members discovered just how far American Methodists would go to enforce racial discrimination against African Americans. Hence, these members of St. George's made plans to transform their mutual aid society into an African congregation. Although most wanted to affiliate with the Protestant Episcopal Church, Allen led a small group who resolved to remain Methodists. In 1794 Bethel AME was dedicated with Allen as pastor.
To establish Bethel's independence from interfering white Methodists, Allen, a former Delaware slave, successfully sued in the Pennsylvania courts in 1807 and 1815 for the right of his congregation to exist as an independent institution. Because black Methodists in other middle Atlantic communities encountered racism and desired religious autonomy, Allen called them to meet in Philadelphia to form a new Wesleyan denomination, the AME.
Richard Allen's Statement of Mission and Purpose of the African Methodist Episcopal Church
The Mission of the African Methodist Episcopal Church is to minister to the spiritual, intellectual, physical, emotional, and environmental needs of all people by spreading Christ's liberating gospel through word and deed. At every level of the Connection and in every local church, the African Methodist Episcopal Church shall engage in carrying out the spirit of the original Free African Society, out of which the A.M.E. Church evolved: that is to seek out and save the lost, and serve the needy through a continuing program of (1) preaching the gospel, (2) feeding the hungry, (3) clothing the naked, (4) housing the homeless, (5) cheering the fallen, (6) providing jobs for the jobless, (7) administering to the needs of those in prisons, hospitals, nursing homes, asylums and mental institutions, senior citizens' homes; caring for the sick, the shut-in, the mentally and socially disturbed, and (8) encouraging thrift and economic advancement.